General Information
Edit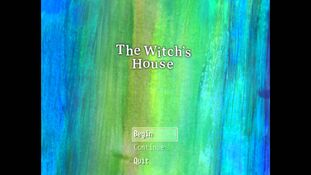 Game Engine: RPG Maker VX
Creator: Fummy
Translator: VGPerson
Release Date: October 3rd, 2012
Download: Japanese | English
"The young Viola visits a mysterious house in the woods. She soon discovers its dangerous nature and must find a way out. But the house is ever-changing, and death could be lurking anywhere..." - Translated Plot by VGPerson
Characters
Edit
Viola: The main protagonist of the game. Viola visits the house in order to get out of the forest since it's way out is blocked by a huge patch of roses. (Spoiler) In the true ending, She is later revealed to be Ellen, the witch who she swapped bodies with.
Ellen: She is one of the main characters in the Witch's House and follows Viola everywhere. (Spoiler) However, in the true ending, she is revealed to be Viola trapped in the body.
Black Cat: The black cat is the save point and helps "Viola" throughout the entire game. (Spoiler) In the secret ending, he is revealed to be a demon who's trying to eat souls.
Game Features
Edit
Monster Chases
Multiple Endings
No Combat System
Specific Save Locations
Various Puzzles
Ad blocker interference detected!
Wikia is a free-to-use site that makes money from advertising. We have a modified experience for viewers using ad blockers

Wikia is not accessible if you've made further modifications. Remove the custom ad blocker rule(s) and the page will load as expected.